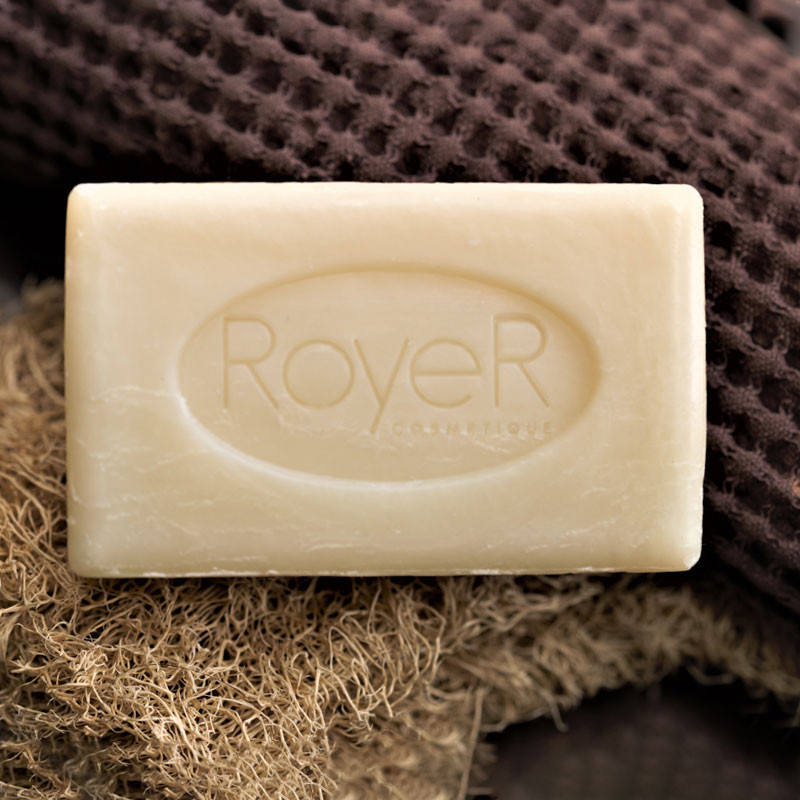  
Snail Slime Soap
Made with organic coconut oil and 5 % organic fresh snail slime, our soap gently cleanses, hydrates, nourishes, repairs and protects your skin. It helps to diminish dark spots, scars and other imperfections, leaving skin soft and supple.
Ideal for the entire family.

Gentle soap with a regenerating and protective effect. Thoroughly cleanses without affecting the hydrolipidic film
Made with 5% fresh organic snail slime from snails raised at our farm. With naturally occurring allantoin, collagen, elastin, glycolic acid, vitamins and natural antibiotic properties.
Recommended for all skin types and the entire family
Oriental fragrance with notes of almonds, vanilla and shea
Certified organic product and 100 % made in France
100g soap bar
Unisex
Data sheet
Ingredients

Sodium Palmate**, sodium cocoate**, aqua, glycerin**, snail secretion filtrate*, parfum, sodium chloride, tetrasodium glutamate diacetate, sodium benzoate, benzyl alcohol, potassium sorbate, citric acid, citronellol, limonene, linalool
Sodium Palmate**, sodium cocoate**, aqua, glycerin**, snail secretion filtrate*, parfum, sodium chloride, tetrasodium glutamate diacetate, sodium benzoate, benzyl alcohol, potassium sorbate, citric acid, citronellol, limonene, linalool

% of snail slime

5%
5%

Skin Type

All skin types

product ingredients are of natural origin

99.0 %
99.0 %

ingredients are organically farmed

82.0%
82.0%

Size

100g
*Organically farmed ingredient
**Made with organic ingredients
Work the snail slime Soap into a lather with your hands or a natural sponge. Apply all over the body and face. Ideal before using a moisturizer.
RoyeR Soap is designed to be used morning and night as part of your everyday face and body care routine. Its gentle formula makes it perfect for the entire family.
Concerned about ecology and the environment, we opted for short distances for the production of our cosmetics. This results in a 100% local and controlled production: the slime is collected at our family snail farm in Les Herbiers; product manufacturing is entirely done by our partner laboratory nearby.
In a continuous quality improvement approach, we carefully select all the ingredients for our products.
We offer natural cosmetics, certified COSMOS ORGANIC by Ecocert Greenlife, in accordance with the COSMOS standard, available at http://cosmos.ecocert.com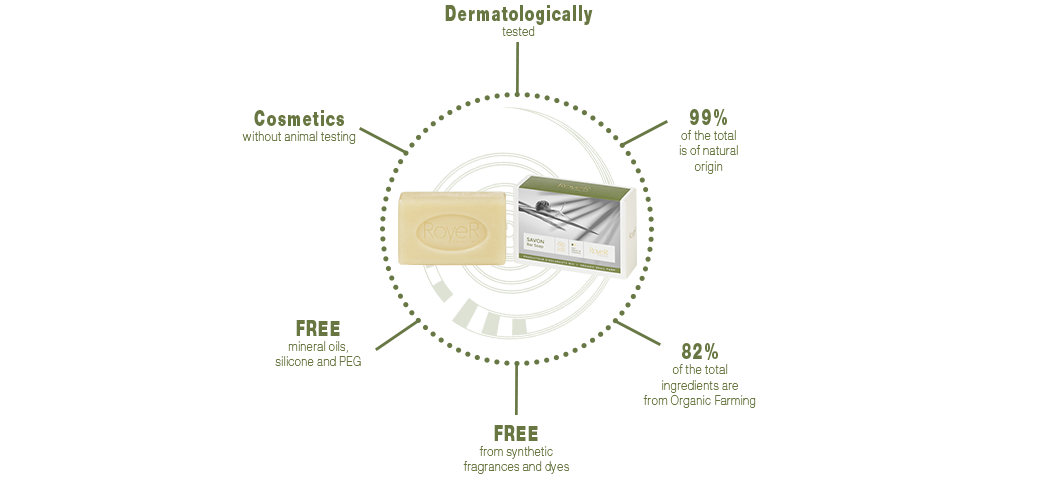 Benefit of Prebiotics
Pollution, stress, sun, tobacco and our diet are factors that can impact the balance of the microbiota. The skin microbiota includes bacteria, viruses and fungi. An imbalance of this microbiota can lead to skin dryness, excess sebum or skin inflammation such as acne, rosacea, eczema or psoriasis.
What are Prebiotics?
Prebiotics are an ultra-soft blend of fibers and sugars that nourish your skin's good bacteria and help support the skin barrier, while the antibacterial effect inhibits the growth of harmful bacteria. Prebiotics help to rebalance the microbiome, stimulate skin defenses, reduce discomfort, moisturize and nourish.
Once the balance between good and harmful bacteria is restored, the skin is soothed and can properly defend itself again. RoyeR Cosmétique products are enriched with Alpha-Glucan Oligosaccharide. This prebiotic is derived from natural sugars (beet, sugar cane or wheat). It promotes the growth of beneficial bacteria and helps limit the growth of pathogenic flora, thus restoring the balance of the skin microbiota. Thanks to its protective power, this ingredient helps reinforce the skin's natural defenses by stimulating the production of antimicrobial peptides.
Benefit of Slime
Snail slime to take care of your skin
Used since antiquity, snail slime has many very beneficial properties for the skin – it stimulates skin repair and healing while protecting the skin, has anti-aging properties and promotes suppleness, moisturization and the skin´s radiance. It thus helps to efficiently prevent, relieve and eliminate various types of skin problems and diseases in a natural way: acne scars, stretch marks, psoriasis, eczema, wrinkles, dark spots, blackheads, rosacea, etc. Discover the full effects of organic snail slime on your skin below.
Why Is Snail Slime Good For My Skin ?
Collagen

Collagen provides the skin with tensile strength (resistance to strain) and is essential to the healing process.

Glycolic acid

This acid enhances the smoothness and appearance of skin and reduces wrinkles and fine lines, as well as skin imperfections and hyperpigmentation (i.e. dark spots). It refines the skin's texture and gives a glowing complexion.

Allantoin

Allantoin repairs and helps to regenerate skin tissue, especially in the case of acne, burns, and marks caused by aging or sun exposure.

Vitamins

Vitamins A and C encourage skin hydration, prevent skin aging, support healing and bring radiance to the skin.

Elastin

Elastin plays a key role in skin elasticity and helps prevent stretch marks and skin aging.